We believe in the comfort of our mattress so much that we'll give you a 100 Night Sleep Trial.* If you don't like it after that, you can return it to us free of charge. But we're confident you won't want to take us up on that offer. Here are 7 good reasons why: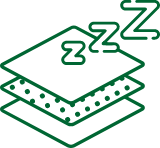 1. Comfort

• Our 3 layer adjustable comfort system

We know that everyone is different - different in shape, size and weight. As well as sleeping position and general personal preferences for firmness.

So we give you the control to adjust your mattress to suit you.

HOW IT WORKS

Please note that we don't stock mattresses that are either Super Soft or Super Firm.

• Our 7 zone sleep system

The body needs different support at different points, so our 7 zone sleep system matches the support level to the different parts of the body.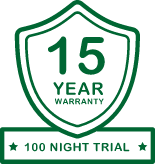 2. Quality and Durability

Latex is innately durable, so we know it's going to last. It doesn't sag, meaning you no longer need to turn or flip your mattress (though you can if you want to).
Our mattresses are rigorously tested to ensure you get only the best quality, and we back this up with our 15 year warranty. Read here for more details.
It's not just the inner core of the mattress that counts. We've paired our 100% Natural Latex core with a soft, luxurious and breathable GOTS-certified Organic Cotton cover – which is removable and washable.
Quality literally doesn't get better than this.
3. Value

Our philosophy is simple: give you the best possible mattress at a reasonable price by giving you what you need, and nothing you don't. And without compromising on quality.
We've avoided unnecessary bells and whistles. For instance, we've tested extensively across different body shapes, sizes and personal preferences and found that 20cm is the perfect depth for the core. No more, no less.
We researched our raw materials extensively, choosing to source and manufacture in Thailand and thus as close to Singapore as possible.
We sell online, via phone or via our small pop-up shop at Fairprice Antique. And we don't have commissioned sales people.
The bottom line is, we keep our overhead costs down, to deliver value to you.
So you get a great quality mattress but pay less. Simple.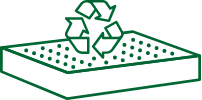 4. Free Mattress Recycling

We are proud to offer a mattress recycling service, to help keep reducing landfill. This service is free of charge if your old mattress is picked up during initial delivery.

5. Eco-Friendly

From the 100% bio-degradable materials, to the manufacturing process and its overall carbon footprint, we believe our 100% natural latex mattress with organic cotton cover is one of the most eco-friendly sleeping options available in Singapore.
We have, and will continue to all we can to make Willow Mattress as eco-friendly as possible.
Read more about how Willow is the eco-friendly choice for your mattress.

6. Free Delivery and Set Up

While setting up your custom mattress is easy, we go the extra mile and do it for you. In your own home and free of charge. And we'll to show you how to do it yourself, in case you want to adjust the layers for that 'just right' feeling, or choose to move it to another room.